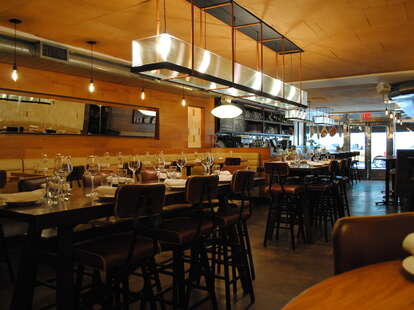 The most valuable restaurants are great for dates, but still casual enough for groups of friends/mostly friends + one guy everybody hates. Enter just-opened Boqueria
The Boq's a sleeve of a Flatiron restaurant, loungey but not painfully romantic (witness the Serrano ham dangling in a nook). It's cheffed by Seamus Mullen, a Vermonter who forsook his home state's traditional dishes (syrup, icicles) for those of Catalonia, e.g.: fried quail's egg and chorizo on toast, shoulder of young lamb w/ plums and yogurt, and braised rabbit in squid ink.
Here's how BQ swings both ways:
4 Serving Sizes: With-the-boys portions include media raciones ($11) and raciones ($19). Date-friendly options include tapas ($6) and pintxcos ($3) -- great if you're stepping out with a model, or a toddler.
Booze options: There's a 50-bottle Spanish wine list, but the real innovation's the Spanish Lager-based "Beer Sangria" -- which men will see as fruity-yet-manly, and women will see as womanly-yet-manly. (Make Boqueria's Beer Sangria
Seating: For groups, there's a 16' communal table. For dates, the elevated banquette tables are just intimate enough for privacy, but not private enough for intimacy. If you're a loner (friendless, womanless), gorge at the 20-seat counter, where tapas are displayed under glass like glorious diner pies
Boqueria's dinner-only now, but'll start lunch in about a week. Basically, they'll fit you in, whether you're working on a new relationship, reprimanding a friend for working on his new relationship, or tragically Cat-alone.