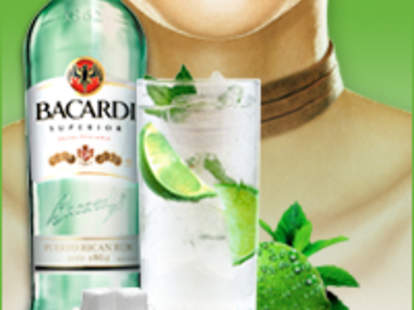 Bastardization is the handmaiden of popularity -- if it weren't, jeans would never have been cut into "jorts". And when it comes to cocktails, none has been more profaned than the original Mojito, with bartenders across America pouring up glasses of foliage-clogged bathwater instead of the real thing.
To get back to delicious basics, try this classic year-round formula, as perfect during a winter freeze as it is during this, the summer schvitz season:
12 Fresh Mint Leaves 2 tbsp Sugar 1/2 of a firm but sexy Lime 1.5oz BACARDI Superior Rum 6oz Club Soda
Place mint leaves, sugar and 1/2 lime in a glass. Muddle well with a pestle. Stir. Add BACARDI, then top off with club soda. Garnish with sprigs of mint, a lime wheel, or more rum.
For inspirational training demos featuring a Latin version of the Cocktail-era Tom Cruise, visit BACARDIMojito.com, where you'll also find faithful variations on the original recipe. If you're lazy, or excessive mint muddling has given you carpal tunnel, hit one of the establishments listed below -- where the bartenders'll make you a Mojito with all the dedication, passion, and clean glassware this timeless beverage demands:
Asia de Cuba:237 Madison Ave; 212.726.7755Calle Ocho:446 Columbus Ave; 212.873.5025Cuba:222 Thompson St; 212.420.7878Highline:835 Washington St; 212.243.3339Kanvas:219 9th Ave; 212.727.2616Latitude:783 8th Ave; 212.245.3034S.O.B.'s:204 Varick St; 212.243.4940