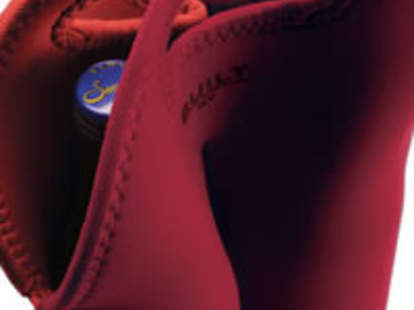 The virtues of BYOB need no elaboration, but the perils do: cold liquids heating up, or, worse, bottles sweating through a paper sack and shattering on the concrete as smug onlookers jeer. To avoid these and other apocalypses, check out Built NY's line of wine bottle totes
Built's totes are especially useful this summer when no AC means an agonizing, 3rd World death. Made from neoprene (the same stuff as wetsuits), they keep chilled liquids chilled, and, thanks to the miracle of handles, are easy to carry.
Because Built caters to both moderate and less moderate drinkers, their product comes in one- and two-bottle versions. And as if 1500ml of alcohol weren't enough (it's certainly not), yesterday they released their 3-bottle model: an ingenious sling that'll simultaneously keep your red room temp, your white frosty, and your rosé hidden from all eyes but those of your vengeful god. As we've learned from men's razors, escalating from two to three only whets the appetite for four, or even five. When that dream happens, you'll never again be faced with the worst BYOB dilemma of all: running out of B.