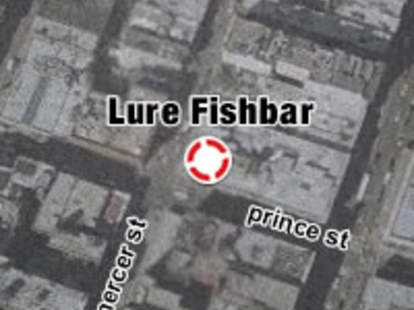 A standby happy hour's crucial to a man's emotional wellbeing, but $2 watery beers and stale pretzels will only depress you. Fortunately, Soho's classily nautical Lure Fishbar just rolled out a happy option that meets all of your many needs.
Lure's deal will be available in the bar area, and in the lounge they installed while rebuilding from The Great Prada Fire of '06. The basics:
Booze: $3 Corona, Kirin Light, and Brooklyn Lager. $4 wines by the glass. $5 cocktails and specialty drinks, e.g. the Grapefruit Margarita, the Dark and Stormy, and the Watermelon Martini -- which'll seem effeminate, until you down four and pick a fight with a generous helping of Spicy Shrimp Tempura
Snacks: Places like Sapa might also have cheap oysters, but Lure goes one better: $1 Blue Point Oysters and Littleneck Clams, plus they've knocked 50% off the bar snacks menu, making the average price about $4. This includes dishes like Chili Glazed Calamari, and Deviled Eggs with Caviar (or "Egg to the Egg").
Snacks within Booze: $1 for an oyster shooter -- a.k.a., the 1.5oz dinner
So whether you're meeting up with the guys, your boss, your lady, or your own personal demons, hit Lure every weekday for cheap seafood, liquor, and seafoodliquor. Because man's happiness is a many-headed hydra.