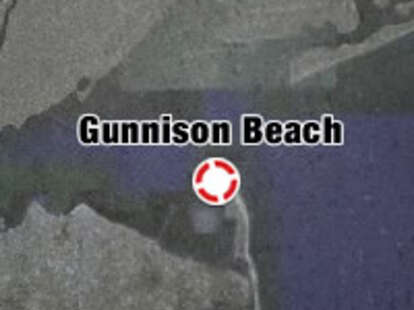 It's so damn hot these days even a Speedo's too much clothing, but nude sunbathing in Central Park is frowned upon by most families and all wildlife. If you're looking for a place where you can rotisserie your whole deal -- or you just can't remember what another naked person looks like -- visit Sandy Hook, NJ's Gunnison Beach.
Located a quick 35-minute ferry ride away (plus a quick shuttle bus), Gunnison's a 2-mile, clothing-optional sandbox that attracts over 5,000 "naturalists" a weekend. More than just a place to brown your inner thighs, Gunnison also offers nude bike riding, nude volleyball, and a nude snack shack. It's all run under the auspices of the National Park Service, so you and your sun-kissed 'scro can contentedly gaze out at the Verrazano-Narrows Bridge without receiving a humiliating citation from a cop in khaki nutters.
Etiquette's obviously an issue here, and among the prohibited activities are blatant gawking, masturbation, and "lewd exposure of the sexual organs" -- which probably includes thrusting, and purposefully violent sneezing. Glass bottles are a no-no, but alcohol's allowed, and, given the types of people who actually go to nude beaches, probably a necessity.