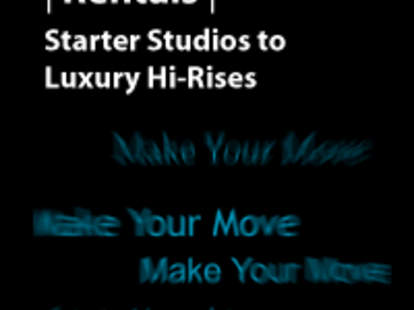 Whether you're looking to buy or rent, finding a Manhattan apartment can be a trauma of wasted time, rejection, and tear-stained 2-ply Facial Tissues Plus Lotion With Aloe. Instead of flailing around on your own, give Citi Habitats a shot.
With 900 licensed professionals and staff, plus the largest listings database in NYC, Citi Habitats is the ultimate resource for both the starving intern and the not-starving CEO. They've also got street-level storefronts in every neighborhood, a presence that makes them tight with everyone who matters: from property managers, landlords and supers, to dry cleaners, plumbers, and Mister Softee scoopers.
Here are just some of the types of properties these guys can put you into:
A convenient Midtown unit, so you can promise to walk to work, then spend a fortune on very short cab rides.
A sprawling Chelsea loft, where you could play gallerist and host openings for neighborhood artists -- or, if you're a true patron of the arts, sit on a giant couch and watch television.
An upscale Upper West apartment, for if you're moving up in the world, or just entered the purgatory of fatherhood.
With all their info, expertise, and experience, Citi Habitats just makes the most sense when you're looking for a place to live. Unless your great aunt dies and leaves you her $200/month rent-controlled 2-bedroom. Then, Citi Habitats makes the second most sense.