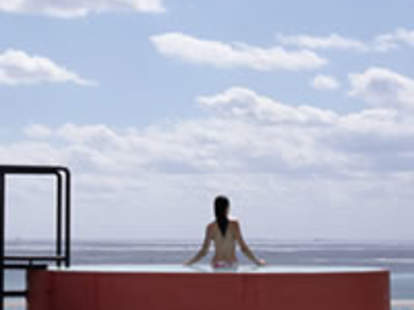 Most theme hotels skew fruity: splashy colors, pomegranate-scented pillows, and nightlife catering to wannabe Stellas wallowing in banana-boobed groovelessness. Instead, plan your winter vacation at the just-opened Hotel Basico, which combines tropical luxury with industrial braggodocio
The sole affordable offering from the uber-ritzy Hotel Habita chain, Basico's located in the heart of wildcatting party spot Playa del Carmen. Unlike other decadent getaways, the mighty B eschews eggshell-stucco resortishness in favor of a 1950s oil rig aesthetic (exposed plumbing, concrete decks, stovepipe metal) that's blessedly free of surly 1950s oil riggers. Amenities include oil tankish dipping pools, a seafood restaurant, and a DJ-loungey club on the upstairs terrace. If for some reason you tire of the non-stop festivities going on above you, all 15 of the wood-on-white bedrooms are optimized for sunburnt crashing. Chilling lazily inside, you'll notice they have another function: Basico has chained a Polaroid camera to each bed, presumably to encourage "exploratory drilling for crude"
Basico's only a $50 cab ride from the Cancun Airport, making it a shoo-in choice for your winter wilding. Come January you'll be pasty white, nursing a cough, and desperate for someplace warm -- just not some cucumber-slicy bungalow that you're forced to share with Taye Diggs.