Department of Holiday Entertainment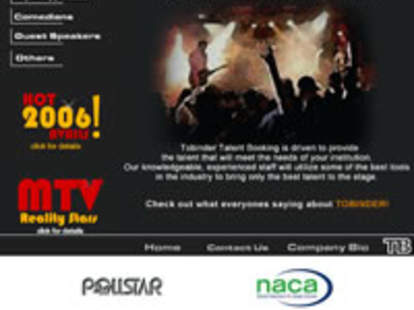 Office party season is upon us, and with it comes the ubiquitous karaoke-soaked throwdowns and tedious manjunk-on-the-copier hall-decking. Instead, give your Holiday gasser much needed star power with Tobinder Entertainment.
Started by a pair of renegade college band promoters, Tobinder Talent is now a super-connected private event entertainment booking agency. Just browse through TT's list of clients and you'll find hundreds of acts even more enthralling than Doug from Accounting's "Naked Eggnog Belly Slide"
Your potential guests of honor
Music: Tobinder not only reps contemporary superstars (The Killers, Ludacris) they've also got great guys you thought were dead (The Violent Femmes, Chuck Berry ) and not great guys you wish were dead (The Verve Pipe, The Squirrel Nut Zippers).
Comics: Choose from the famous (Chris Rock, Denis Leary) to the moronically fascinating (Police Academy sound effects specialist, Michael Winslow)
Reality TV Personalities: Put down a deposit on some "stars": Landon from Real World Philadelphia or Veronica from Road Rules Semester at Sea, who'll like totally appreciate your mistletoe-hanging-from-zipper gag
Remember you'll pay extravagantly for the better acts -- and are at the mercy of their current touring/rehab schedules. TT co-owner Andy Binder recommends you pick out a wish list of 10 you're considering and call him as soon as possible. Worst comes to worst, you'll end up in an awkward "Jingle Bell Rock" duet with Dustin Diamond. Just like last year.