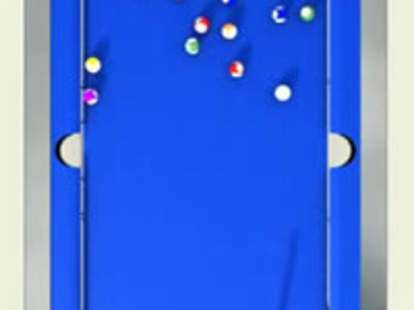 Though a potent symbol of bachelordom, the pool table's ungainly size means you won't have room for other bachelor furnishings: a dining table to eat at, or a desk at which to compose torrid letters to women who don't know you. Lucky for you, the (Very) Table does it all
At first glance, this sexy machine is an ultra-modern brushed aluminum dining table/desk with a rich wood veneered surface. But stow the tabletop panels in their dedicated drawer and attach the crank, and you're only twists away from Fast Eddie Felson-dom. As you turn the handle, the outer rim and bumpers rise up from the felt playing surface and the wire ball runners drop down. From there, you'll be able to hustle a few breaks, confident that you can quickly turn it back into harmless furniture should local police arrive to bust up your high-stakes boondoggle.
While some tables can weigh a sperm whale-esque 1,000lbs, lightweight steel and composite construction make this 600lb beauty one of the few you can put together yourself. But the assembly time will be worth it once you have guests over: you can serve them dinner, school them at 9-ball, and then sit down and write an apology letter to the friend whose sternum you shattered with a wayward cueball.