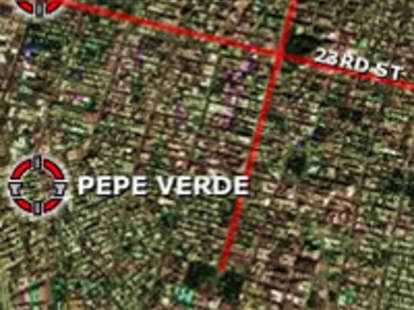 Feeding girlfriends can be so expensive, many men aren't left with enough cash to cheat on them properly. To preserve your "Strange Chick Humping Fund", take your girlfriend to one of the Pepes, five blessedly cheap Italian kitchens scattered across The City.
At any Pepe you'll find salads, paninis and pastas, all in portions that won't leave her eying your leg with a nonsexual hunger. Dinner for two costs under $40, including a $14 bottle of wine -- or, after eight months of dating, "the stuff that makes me still want to sleep with you".
Pepe's counter service means your girlfriend will never see the bill, or discover how much you're funneling toward other activities, like breeding the mutant rooster that will change the face of cockfighting forever.
Conveniently, there's a Pepe near you:
Pepe Rosso

(149 Sullivan St) Tiny and homey, with sidewalk seating.

Pepe Giallo

(253 10th Ave) Their lovely garden is the ideal setting to get down on one knee and propose...a three-way.

Pepe Verde

(599 Hudson St) The cheapest italian in the West Village aside from our landlord.

Cafe Pepe Rosso

(6i Grand Central Terminal) Perfect if you're dating a middle-aged banker who has to catch the 9:15 back to Greenwich.

Cucina Pepe Rosso

(506 Canal St) The grimiest location. Great for low-maintenance dates: court stenographers; found object artists; lonely immigrants.
Maybe you're enjoying the single life right now, with your lukewarm beers, TV dinners, and occasional hockey riots. But it should be comforting to know that if you're ever compelled to take on a "special someone", you'll be able to keep her sated, happy, and distracted from your compulsive infidelities.