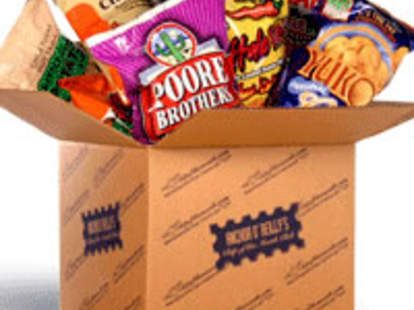 You demand quality in your regular meals, so why not your junk food. Make your artery-hardening snacking unpredictably superlative by joining Anchor's Chip of the Month Club
Each 2lb "chipment" gets you 6 bags --- usually three "original", three flavored -- from various boutique potato chip makers across the country. All the seasonings are inspired by things you'd actually eat, so don't fear getting stuck with sacks of Dumpy's Beaver Mayo Crisps (Now with ridges!).
If you'd been a member last month, here's what you'd have crumbs of in your couch
Route 11 Original Chips
Wachusette Original Style
Potato Finger Barbeque Chips
Route 11 Garlic & Herb
Cincinnati Rib King BBQ Chips
Jazz's Jalapeno & Margarita Lime
Anchor's 3-, 6- and 12-month memberships aren't cheap, so consider the six-pack sampler to start. But a yearlong investment will guarantee the reinvigorating potato experience your Munchos have long failed to provide.