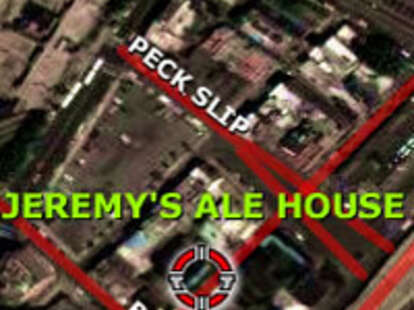 While tearing up Wall Street in the 80s, Thrillist coped with our soul crushing schedules by murdering call-girls and colleagues with names like Luis Carruthers. Unfortunately, management tends to frown on stress-related killing, making a nice beer buzz a realistic alternative. We suggest hitting the morning happy hour at Jeremy's Ale House, a bra-lined dockworkers hangout in the South Street Seaport.
Jeremy's "Eye Opener" runs from 8-10am -- the perfect start time, as drinking any earlier might signify some sort of an alcohol problem. Beers are half off and are served in awe-inspiring 32oz Styrofoam cups, filled to the rim with any brew on tap. Prices start at $1.75 and don't go up much higher. Screw coffee. That's one full quart of cold, delicious sanity, all taken down before your sniveling co-workers have puckered up for their first ass-kiss of the day.
Since you're probably very busy playing "Freecell", Thrillist has put together your personal "Jeremy's Consumption Chart" to help guage your corporate insubordination:
1qt: Become hero by slurring hilarious insults at annoying mail clerk. Preferably something about his unnaturally petite balls.
2qts: Interupt CEO's downsizing speech to propose corporate merger with Jeremy's Ale House.
3qts: Pass out on desk as drool shorts out your Blackberry.
1 gallon: Destroy desk. Bankrupt company by extending $5 billion credit to Vince Neil.
Hanging at Jeremy's should not only put your corporate existence into a livable, hazy perspective, but it can even make your work day fun. Indeed, the only thing better than spending the money of strangers to blindly short the Nikkei, is doing it after a Jeremy's 32oz tallboy.