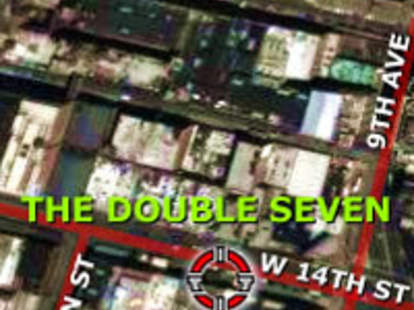 All truly "classy" dates conclude with the No Pants Dance. But somehow, last night's ended with lipstick on your cheek and a furious yearning in your trousers. Rather than waste more time on fruitless seduction, apply the ultimate sexual litmus test, The Double Seven. If you can't get it done here, she's using you for a free meal.With dim lighting, low-riding alligator skin sofas and ridiculous cocktails designed by Sasha (Little Branch, Milk & Honey), you should have even the most prudish woman kneading your scro' with her dainty hands. As expected, a place this sexmatic has its liabilities. The drink prices are appalling, and the door policy is so fearsome we saw Ma$e dressed as Puff Daddy trying to sneak in. To facilitate entrance, Thrillist Labs(TM)* has formulated this three-step plan:
Call ahead. The reservation line is 212.981.9099. Or try the hostess at home: 212.479.7990.
Arrive between 9-11pm. You can snag the banquet behind the DJ, and your date won't be distracted by the richer, better-looking men who show up at 2am.
Pretend you know the staff. Leticia and Damien run the door. Monica's in charge. Lies like "We met last week and you were nice enough to send over a round of shots" might work, while "You abandoned me at Prom" won't.
Despite your scheming, Double Seven's bouncers will probably treat you like a leprous hobo. If you do get in, soak it up quick, as your date should be thinking nightcap one sip into her Dominicana. If not, you've lost your swerve completely, and should strongly consider selling your penis to our labs.

*Our secret R&D think-tank, located in the Earth's core, leased in perpetuity from the Mole People.