When Pest Control sent Andrew Dice Clay to club the pigeons that had flown into our office, we realized that even the most prodigious talents can fall outside the notice of the fickle public. Another inexplicably ignored, all-time great is Keens Steakhouse, the first call you should make when you're craving the fruits of the slaughter. You'll enjoy burying yourself in credit card debt at Keens because:
They know scotch like Jason Priestly knows residuals, pouring 220 single malts.
The juicy prime rib is cut almost as thick as Star Jones' blazers. Some people also rave about the house special mutton chop, but unless you're prepping to play the Sheriff of Nottingham at next month's Renaissance Fair, mutton chops are totally inappropriate and stupid.
The "Bull Moose Room" and other event spaces are stately and legitimately private. Instead of just blustering about strippers like the chumps at other steakhouses, at Keens, you could bring in the real thing or, in a pinch, hungry amateurs.
Despite all this, getting a table is somehow easier than refusing M&M's peddled by those kids on the subway, desperately in need of football uniforms. Yet Keens has made rent for 120-years, so we doubt this old-school carnivore's playpen will lose its luster anytime soon. We were seconded on this by the Dice Man himself, who, taking an evening off from the Pigeon Unit for a Thrillist-sponsored mutton chop, agreed: Keens will always be prime.
Recommended Video
FORK YEAH: Del Posto's 100-Layer Lasagne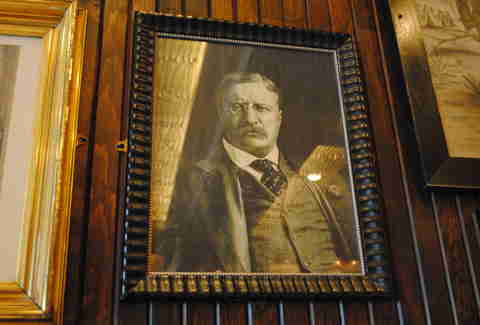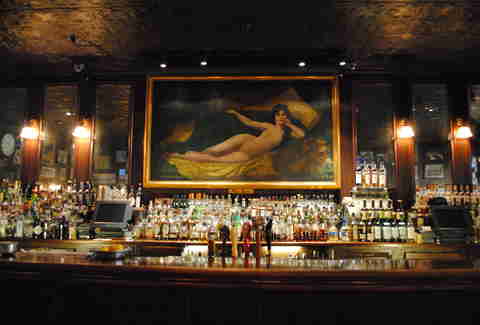 Previous Venue
Next Venue
Venue Description
1. Keens Steakhouse
72 W 36th St, New York, NY 10018
Keens was the gentlemen-only meeting place for all sorts of playwrights, publishers, producers, and newsmen of the Herald Square Theatre District back in the day... which was 1885, by the way. Today, the legendary steakhouse maintains its reputation and continues to deliver quality eats in an old-timey atmosphere, and women are now allowed in (!!). Wondering what to order? Try the mutton chops, word is you won't regret it.