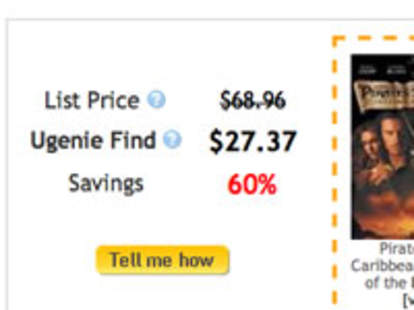 When stockpiling on books/movies/music online, finding the lowest prices means blowing your savings on shipping from multiple merchants -- unless, of course, you resort to one shady option: pirate Chinese websites. Legally maximize your time and cost, at ugenie.com
Just launched by a pair of ex-Amazon employees, Ugenie differentiates itself from other price comparison portals by calculating "bottom-line prices" (+tax, +shipping, -coupons/rebates). But it's only once you've added a few items to your shopping list that Ugenie's mad genius reveals itself: First, check the items that you want to include and hit the "bundle" button. Ugenie then queries ~50,000 sites to find the single merchant selling all your items at the lowest bottom-line prices, at once sparing you multiple postal fees while satisfying your taste in everything from Johnny Cash ballads to Egyptian aviation dramedies. You can further refine your search parameters (shipping options, new/used merchandise, seller ratings), and even exclude specific merchants with whom you may have had a bad experience -- e.g., ordered a Shakira CD and instead received a possum's testicle in a snow globe.
Ugenie is still technically in beta mode, but in the next six months they plan to sell directly, saving you even more time and money. Don't let this keep you from starting your Christmas shopping early at the U: you'll still save, and you won't have to worry about Beijing buccaneers running your credit card straight up the mast on parrots and wooden legs.