Southern Gentlemanly Escape Plan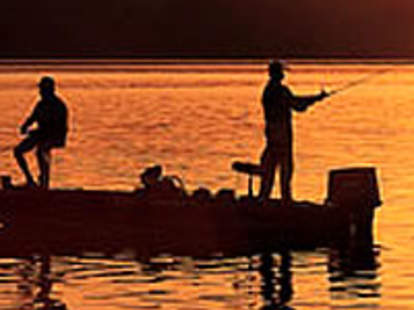 Most people think vacationing in Georgia means collegiate sporting events, slaking your mighty addiction to peaches, and naked sprinting through Emory sorority houses. But there is a prime opportunity for more civilized romping: the Southern Gentleman's package from Ritz Carlton
HQ'd 75 miles outside Atlanta, the sprawling 35-acre Reynolds Plantation resort is the ideal place to escape the screeching woman in your life. The spacious rooms have private verandas, marble tubs, and full-frontal views of both the Lake Oconee golf course and Lake Oconee itself -- a rippling wonder named after the Cherokee word for "shimmering waters not filled with putrid cess"
While there, each member of your crew gets hooked up with
A half-day quail or turkey hunt
2hrs of skeet shooting
A guided bass fishing excursion
18 holes at The Oconee
When you get sick of outdoorsy-ness and just crave pleasure spongery, the package also includes a steak dinner at nearby cow palace Linger Longer Bar & Grill, a Cognac night in the hotel's Lobby Lounge, and a deep-tissue massage at the Ritz's spa (to wring the boozy meat sweat from your body). After five days of relaxation and Southern refinement you'll realize that Georgia really is more than nude dashes through Emory -- it's also sweeping vistas, gentlemanly sport, and nude dashes through the sorority houses of Georgia Tech.