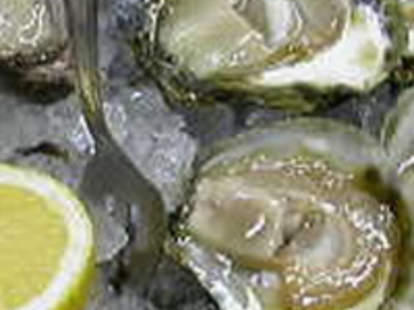 Instructions:Drop one shucked oyster into the bottom of a double shot glass. Add a lump of horseradish and a dash of Tabasco. Top w/2oz vodka. Shoot. Chase shot with 1/2 slice of lemon. Do not chase 1/2 slice of lemon with "You know, they say oysters are an aphrodisiac..."Legendary sex machine Casanova recognized the power of the oyster for conquering Renaissance-era biscuits.His morning ritual: Fill bathtub with hot water. Add naked woman. Add naked Casanova. Have servant bring over fifty raw oysters. Eat oysters while naked woman watches. Make sweet bathtub love. Unfortunately, what works for Casanova doesn't necessarily work for you, as:
Your bathtub seems to have been designed for an ancient race of three-foot tall humanoids.
You're putting off buying a servant until you're no longer a servant yourself.
While sober, you fear your naked reflection.
Fortunately, you've got something Casanova didn't: vodka. It's the magical component in an Oyster Shooter that gives this spicy, salty snack of a shot the power to dramatically improve your sexual odds and performance*. Casanova knew that oysters can affect a woman's libido. You know that vodka can affect her libido. This 1-2 punch of desire makes women think about sex. Once women think about sex, they usually want sex. Women who want sex tend to have sex.Pour some shooters this weekend -- you might even convince her to climb into your tiny bathtub and get nice with your three-foot tall humanoid.

*Technically oysters are not an aphrodisiac, but they do contain high amounts of zinc, phosphorus and iodine, which can up stamina and "soldier" count. Your body won't physiologically crave intercourse more than it already does, allowing women and pets to rest easy.