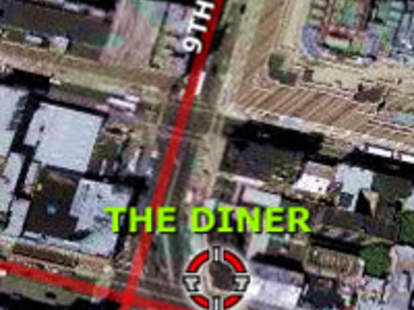 There's usually nothing comforting about nights in the Meatpacking District. They can end with dizzying, model-banging highs, or humiliating "rejected by a haggard Jersey cougar" lows. If it's the former, you'll need a place to show off your leggy conquest and eat enough to absorb your liter of vodka. If you're less fortunate, you'll require delicious food, if only to soak up the self-loathing and tears. Either way, The Diner, which opened last night, is the neighborhood's answer to your late-night needs:
If the evening's been good to you, Diner's grilled cheese will fuel your bedroom endurance, while the milkshakes can add a deliciously innocent expectation to the budding "relationship".
If you've blown it, the mac'n'cheese'll remind you of Mom, who always claimed you were handsome, despite overwhelming evidence to the contrary. Even in solitary despair, the classic fare will take you back to a time when you could actually be made happy by something other than sex.
Of course, given The Diner's location and pedigree*, it's likely the very women who just ruined your life at The Double Seven will walk in to see you sadly teething a fried chicken. Hopefully, they'll give you another shot after your visibly apparent loneliness convinces them that you're actually a nice, down-to-earth guy -- as opposed to the globetrotting Lebanese architect you told them you were just before accepting failure and slinking across the street to gorge.

*backed by Marc Packer (Tao)