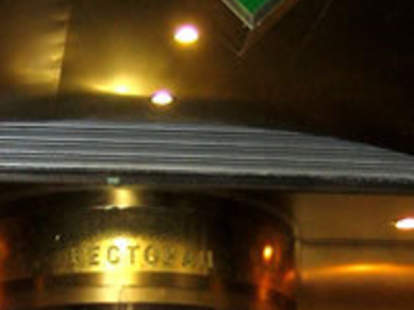 Planning an insane night of debauchery takes work. Work you can't fit into your hectic schedule of hating your job. That's why, when you're charged with pulling off a boozy gathering, you should rely on The National, an astonishing Russian supper club in Little Odessa
While Soviet-era Russia tended to force labor and bread-envy, The National forces drinking. With a bottle of vodka included in the meal and $30 reinforcements, you might just slug enough to sample the endless and horrifying array of traditional Russian cuisine piled upon your banquet-style table.
Sure, poisoning yourself on vodka and beef tongue is a blast, but there's so much more to this Gulag of Fun:
A prix fixe menu

*

: keeps costs down and stymies bill-itemizing bastards.
The sweet layout: renders chronic complainers mute with awe -- think the ballroom of a shoddy Czarist Titanic.
The Vegas-cum-Vladivostok stage show: delights even miserable haters, while derailing terrible conversations on relationships, careers, and family. Who can drone on about their surprise divorce while a mulleted Slav belts out "Livin' la Vida Loca"?
If you're concerned your American-style obnoxiousness will cause ex-KGB waiters to disappear you, don't be. This place is so permissive you could "theoretically" end a toast by shattering shot glasses onto your dessert tray -- and still emerge with only self-inflicted wounds, acute alcohol poisoning, and friends totally convinced that they'll never have fun again unless it's to the tune of "Zemlyanichka Yagodka"
*$50 per person on Fri and Sun, $65 on Sat.