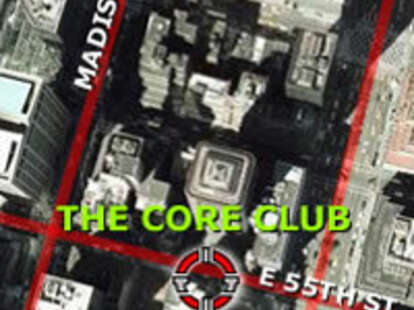 Movies like The Secret of My Success and the first half of Wall Street convinced you that launching your career in New York would lead to vast power and wealth. Well, it has...for your boss. Follow his lead, sleep with the right people, and one day, hundreds of years from now, you might get to his level -- at which point there'll be a slight chance you'll be invited to join The Core Club
Just opened, this opulent, ultramodern leisure palace is appallingly expensive: $55,000 just to join, plus $12K annually for the privilege of paying top dollar for everything available inside the fingerprint-scanning doors. Membership is by invitation only, and is reserved for individuals who bring a "unique wealth of experience" -- such as winning several Oscars, inventing a new form of media, or, in your case, accidentally sharing a bed with a monkey.
Besides the standard, expected amenities (art by Basquiat and De Kooning, staircases carved from 1400 square feet of Bianco Venatino slab marble, personal concierge service*), the Core Club also sports:
A 56-seat theater, where Core's Hollywood bigshots prescreen their own movies, saving members the price of a ticket -- $10.25 they can use to tip the club's expert staff of penis rinsers.
Lordly dining designed by Tom Colicchio (Craft, Gramercy Tavern).
A pristine gym, perfect for working off the jiggling gut designed by Tom Colicchio (Craft, Gramercy Tavern).
All this and more could be your reward once you've ascended to the absolute pinnacle of professional achievement. Until then, we suggest you continue rinsing your boss' penis. If you do a really good job, maybe he can get you a position on the Core Club staff. It's all about moving up in the world, baby
*Each member is waited on by a Core Consultant, who'll jump to do his bidding, even if it's gross.