Low lights and old-school style in DTLA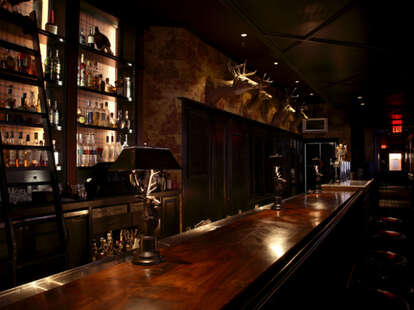 Seven Grand feels like an Elks Lodge gone horribly drunk, thanks to juxtapositions like a 250-year-old wood bar by an entrance wall covered nearly floor-to-ceiling with Makers Mark empties (like Mark Twain's dorm room). The menu boasts 125 whiskies, including standbys like Jameson and novelties ranging from previously-unavailable Rittenhouse rye to gag-worthy Moonshine. Additionally, Seven Grand's got:
16 tap beers, each with a nitrogen system tailored to its brewer's specs to better keep your Moons Blue and your Tires Fat.
A secluded back room, a pool table, and a smoking patio -- so the guy who hustled you at pool has an airy place to light his cigars with your money.
A rare-to-downtown live-performance permit, and a partnership with the bookers behind Silverlake's mainstay, Spaceland. Upcoming plans include hipster indie rock nights, and traditional Irish, drunken-brawling music.
Further sweetening the deal, there's a Thrillist-only, off-the-menu special: a Bud tallboy and a meaty shot of Jim Beam, a.k.a., the "Shotgun Wedding" -- whose double-barreled potency will turn you into a bastard, but ironically will probably prevent you from fathering any.