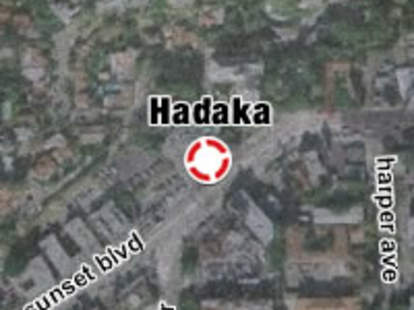 Sushi's a mainstay of life, but from time to time even the finest fish-on-ricing can feel predictable. Give your routine a shot in the pants at Hadaka, opening this weekend
Hadaka is sushi with a non-wasibic spicy ingredient: Sex. The restaurant (named after the Japanese word for coitus) is upscale, but a horny undercurrent pervades the decor, from softcore wall art to tables are shaped like the letters X, E, and S -- providing your meal a foundation of tawdry dyslexia. Continuing the theme, the menu comes in two versions -- "Nice" or "Naughty" -- so you can still order a California roll layered with scallops and dynamite sauce without asking the waiter to give you a "Pearl Necklace". If, understandably, cheeky innuendo doesn't scratch your itch, there's also an adults-only back room where, for the right price, you can eat sushi off a naked woman -- a practice previously relegated to clandestine Yakuza sit-downs and bad Michael Crichton movies.
Underneath the perverse gimmickry, this is still a top-notch establishment, with fish that stands up against LA's best nipple-free sushi spots. The only worry is that too much Hadaka will desensitize you to racy tuna rolls, leaving you fiending for still more depraved cuisine -- the feared S&M fondue dungeon.