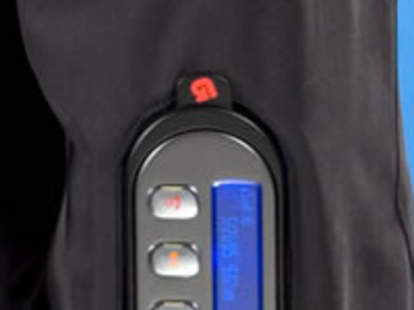 You demand unfettered access to the gadgets that make your life rich and fulfilling -- even when you're hurtling uncontrollably down an icy mountain. Last ski season, Burton tried to free up your hands with their iPod-wired ski jacket; but since they forgot that people also carry cell phones, it should be considered a dismal failure. This year, however, they've achieved full tech integration with the new Bluetooth-compatible Audex, which just became available for preorder
Like the 2004 model, the new Audex has an iPod control panel sewn into the left sleeve. But unlike that woefully inadequate dinosaur, the 2005 version also comes with wireless technology that routes any Bluetooth-enabled phone through your wrist-screen. The Audex also puts Caller ID and voice-dialing on the sleeve, and speakers and a microphone in the hood -- so you can call your lawyer as you struggle to free your pole from a ski-schooler's limp body.
Among the other things you'll be able to do that others won't:
Quickly cue up "Blaze of Glory," either on the lip of an icy chute, or after veering into the trees to enjoy some greenery.
Screen calls from your coworkers, who are just pissed because they lack the stones to hit Killington on a Wednesday.
Remain hands-free back in New York, where you'll be able to stay connected while walking with your mocha, or lewdly gesturing at a group of old women.
We strongly suggest reserving one of these miraculous jackets before they're all spoken for. Otherwise, you'll have to wait 'til it hits stores in mid-November, when you'll be fending off mobs of embittered dads trying to buy back their children's love with kick-ass mountain gear.