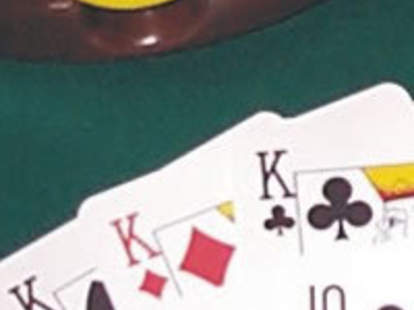 If you play online poker, you know "the rake": the painful percentage the house swipes from each pot. Grab some of that cash back, with Rake Break.
Rake Break is a portal bringing together some of the web's biggest poker sites, including Full Tilt Poker, Absolute Poker and Ultimate Bet. When you join a site through Rake Break, here's what happens when you play: the house takes its rake. They then cut Rake Break in for a percentage. Then, like a Robin Hood for degenerate card fiends, Rake Break refunds you up to 90% of that chunk.
To get in on the action, simply fill out RB's automated join form (Rake Break can also transfer your existing account from some participating sites); there are no dues or minimum bets. When you play, your rebate's placed directly into your poker account -- where you can use it to make even more money, then invest it all in mail order steaks.
To crunch the numbers, use Rake Break's calculator and gauge your potential savings -- after you sign up, log in to monitor your windfall on your online statement. Right now, you'll also get $50 for each player you refer, a great opportunity provided excessive online gaming hasn't alienated you from all your friends. Of course, you can always bypass Rake Break and sign up with a site directly, but why throw away money on nothing when you could be using it for something special, like gambling?