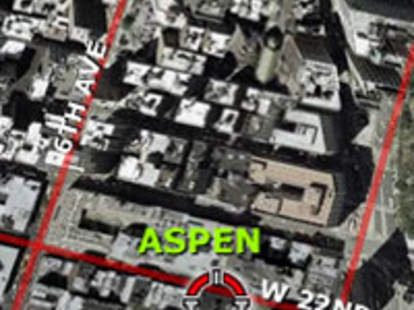 Securing a table at a new, PR-hyped restaurant can be tougher than swiping a bite of William Shatner's second dessert. But if you'd rather hold the Shat's hair while he voms cheesecake brownies than hassle with landing a reservation, hit Aspen, opening Monday in the Flatiron District.Aspen will be accessible despite boasting the sort of over-the-top space that usually draws in models, guys who bag models, and guys who dress like guys who bag models but actually cry alone at night. Aspen's backers dropped serious cash on the ski lodge decor: an enormous copper fire pit (surrounded by a 16-person table), Lucite deer heads, even an Aspen tree garden, which you can pee behind if the bathroom line's too long. Even if Aspen proves to be outrageously popular, your staunch refusal to plan ahead won't screw you, because:
Aspen takes no reservations. If restaurant nerds call three weeks in advance, they'll still be no better off than last-minute cowboys like you.
Your pre-meal bar time will be spent wilding, instead of standing around wishing you were better-looking. You'll enjoy the bar menu, the DJ, and the numerous unsuspecting women you'll squeeze past "crotch out" as you order your fifth Brandy Alexander.
The plentiful seating will ensure steady turnover, and the kitchen will serve 'til 3:30am. If you get sucked into Demolition Man on TBS, you can still pop in late for a fish taco or bison slider -- a dish available because the bison's return from the brink of extinction coincided neatly with the ascendancy of the mini-burger.
If Aspen's non-exclusionary features offend your elitist tendencies, you'll be comforted to know about the soon-to-be-opened, subterranean "Black Diamond" members-only room, accessible by keycard. Debase yourself for one, and you can obnoxiously flash it to other patrons -- so they'll know that, even though they've snagged a seat, you're still better than they are.