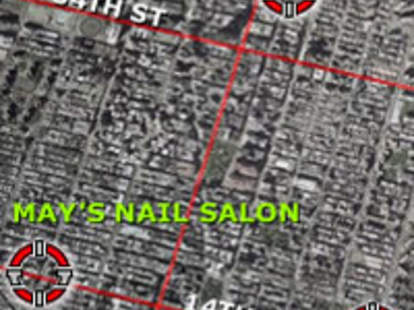 For years, your thick bush of back hair has left you awake at night, concocting excuses to get out of pool parties, shirts & skins basketball games, and invitations to model nude for sculpture classes. You know you should wax, but would sooner live forever in your perma-sweater than risk getting caught in the act. To aid your quest for smoothness, we've tracked down three discreet, no-frills establishments where you can simply rip and run.
For your convenience, we've made sure your options are geographically distributed. More importantly, each is on the second floor, saving you the embarrassment of being seen entering or waiting in a house of effeminate grooming and month-old In Styles.
Queen Jane's Nail Salon$30/$37 277 1st Ave, 2nd Fl, between 15th and 16th; 212.460.5512 Understandably, the Queen charges an extra $7 if you're "very hairy". It's also located across the street from Beth Israel Medical Center -- convenient if you find out that, besides being wooly, you're also a bleeder.
May's Nail Salonabout $30 202 W 14th, buzzer 1F, at 7th; 212.929.3384 May's is moderately grungy, but not so scary you'll be afraid of walking out having had more than your hair extracted. Upon hearing a man's voice, the woman we spoke with spontaneously volunteered that she employed only "fine girls" -- so if character is important to you, this is your place.
Madison Nail Salon$45 267 Madison Ave, 2nd Floor, at 39th; 212.370.4151 People on the street will see you walking in the front entrance of Mulligan's Pub, without knowing you then climbed the stairs to the salon above it. While you may feel awkward getting a yank-job a floor above a handful of lonely drunks, your secret will be kept safe by the jukebox drowning out your desperate screams.
Of course, you could choose to continue living with your condition, but the reality is you're just going to get hairier. Eventually you'll be faced with a new decision: retreat from all human contact, or find yourself with a dart in your ass, caged with the bears in the Bronx Zoo.