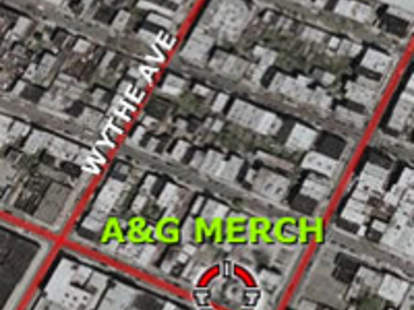 Stylish furniture can be a credit-busting proposition -- unless you've settled for IKEA, in which case your apartment looks like government housing for a family of Swedish androids. For reasonably priced, eye-catching furnishings that won't make you feel like part of a weird Norse conspiracy, hit just-opened A&G Merch, a spin-off of Williamsburg's high-concept furnishing store The Future Perfect
Over the years, FP's gained considerable notoriety for unique pieces like the "360" coffee table: a rotating, circular sheet of glass resting on three upturned sets of skateboard wheels, perfect for passing hors d'oeuvres, television remotes, and Whippits.
Recognizing that his customers needed more than spinning tables and ceramic antler desk lamps, co-owner Dave Alhadeff scoured the country to find pieces that meshed sharp aesthetics, comfort, and affordability: architect's desks, leather chairs, upholstered couches, etc. Everything's functional and, because of the aforementioned scouring, distinctive -- just not so distinctive that furnishing an entire apartment through A&G would make visiting children curl into a rictus of fear
We recommend grabbing a necessity or two at A&G, then stopping by FP for something semi-useless but cool. By the time you host your next dinner party, your apartment will look so spanking no one'll notice you bought mismatched silverware off a blanket at the Bedford Street subway stop.