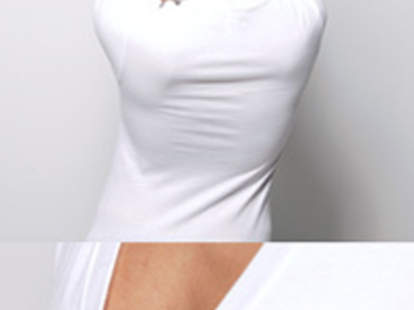 There's nothing more comfortable than a broken-in vintage tee shirt -- and nothing more disturbing than picturing the original owner wearing yours while fathering a bastard child in the parking lot of a Foghat concert. If you want vintage feel right off the rack, try American Apparel's newly expanded line of summer tees. American Apparel's rep was built around their vertically integrated LA-based operation, their dedication to quality -- and their ads, which feature women in suggestive poses, and men in suggestive mustaches. Their shirts are made to fit normal people perfectly, as opposed to the boxy giants other companies apparently cater to. Now that it's getting less miserably cold, it's probably time to rack up some of their fine warm-weather offerings:
The Summer Shirt: Last year, this ultra-soft tee generated such a positive response that they decided to produce both a women's and a deep V-necked unisex version -- which can leave a man's chest, a woman's breasts, or a man's breasts tantalizingly exposed.
The 50/50: Whereas 100% cotton shirts can take years to beat into softness, these 50/50 cotton-poly blends are born ready for action -- or blissful, form-fitting lethargy.
The Tri-Blend Track Shirt: This shirt feels more vintage than your dad. By adding rayon into the cotton-poly mix, AA's created a softness you won't be able to part with, even if it means wearing it into the shower. No matter which line you go with, you'll get a durable product you can wear forever. Or for twenty more years, when a futuristic vintage clothing store offers you wads of money for the Summer Tee off your back.