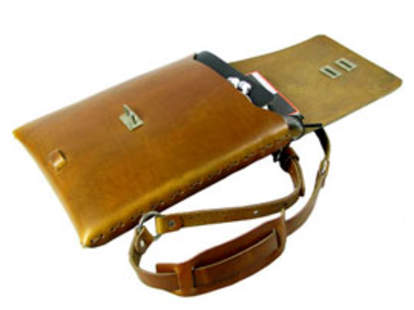 The Amish are known for plain dress, simple living, and deep mistrust of batteries, but who knew they also make the chillest MacBook holster this side of Ishmael Boorg? Go Pennsylvania Dutch on leather goods from Billykirk.
Created by two brothers who bit style ideas from equestrian gear, old school L.L. Bean, and vintage industrial clothing, BK commissions isolated Amish leather workers to hand craft ruggedly durable goodness in everlasting modern styles suitable for even the most hell-bound user of electricity. Bagwise, they've got the waxed cotton/leather Laptop Flight w/ interior zip pouch, the oiled/edged leather Overnight Travel Bag w/ two interior pockets & six dull silver bottom feet, and a wax-cording-stitched Shoulder Satchel from a single piece of cow hide, modeled after a Belgian map case used during one of the 18 days that country actually threw down in WWII. For cash carrying, BK's got three styles of hand-stitched, wax-corded wallets: a hand-oiled Tri-fold with business card/change holder, the wide-stanced Passport w/ interior pocket/loop closure, and a 70s era Three Sided Zip with Swiss locking zipper/kip leather interior (making this wallet a real Winger).
To encase more goods in cow, BK's got leather-bound journals, belt pouches, cuff links, hand-stitched card cases, and four styles of belts including a hidden-buckle number that 50s auto workers once wore so's not to scratch up cars -- oddly similar to the one the Amish devised to not scratch buggies.