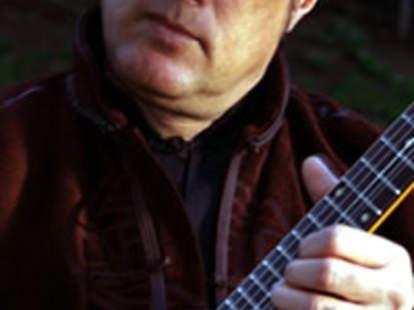 Believe it or not, Steven Seagal has a blues band. In anticipation of his Manhattan tour stop, we asked him what was up with that. His answers -- and non-answers -- will haunt you
Generally, men who can take another man's life with one thumb are pretty happy. So how is it that you got the blues?Where I grew up in Michigan, there were people up from Alabama, Mississippi, all over the South, working in the steel mills. I started learning from them when I was five or six years old. I got inspiration from Lighting Hopkins, Muddy Waters, Howling Wolf, Gatemouth Brown (inaudible due to SS's low, gravelly phone voice)...
So did you ever get to play with those greats?Maybe the connection's bad, or maybe you're not listening. I played with many of them. They took me by the hand and taught me.
Right. Bad connection. So, you wrote or co-wrote most of your songs. Were you afraid that if you relied on blues standards, people might say, "Oh, no, there goes another 7th degree black belt in Aikido who can't write his own material"?I had 250 original songs to work with. Everybody's tired of hearing just standards.
Your debut album was called Songs from the Crystal Cave. Where is this cave, and is it safe for us to travel there?It is a metaphor for the mind. (No response on safety -- proceed at own risk.
Onscreen, you're known as a stoic death machine, but onstage you're impassioned. Is one of these the real Steven Seagal, and one an imposter?I don't think so. I think art is all the same. Acting, music, painting, poetry, all the same.
Most actors come across musically as novelty acts. Any advice for anyone considering a Don Johnsonesque move?People aren't taken seriously when they don't deserve to be. Keanu, Russell Crowe, Kevin Bacon, they're great guys, and it's great that they're delving into different arts, but conversely, there's a difference between someone who's played all his life, played with the greatest f&!#ing legends out there. I'm not saying I'm better, but I have been playing all my life. That, I can say.
On a non-music note, your site mentions a complete line of DVDs, music, energy drinks and...oils? Are you stepping into the world of erotic aids?I have 10,000 acres of plants brought in from all over the world, to be used as medicines and alternatives to surgery. So no, "oils" isn't what you thought.
So buy your ticket now for a man of war, peace, and blues -- but not erotic aids, because that would be crazy.