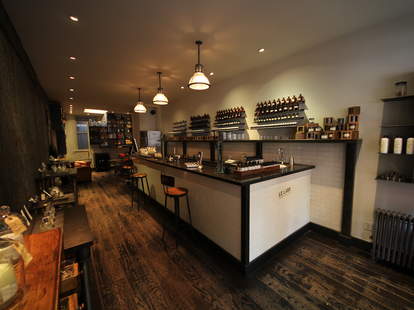 Cologne's supposed to make you smell studly, but there's nothing masculine about an overpriced aroma endorsed by a half-naked Puff Daddy. If you're looking to boost your nasal comeliness without the branding BS -- and want an unexpectedly interesting buying experience to boot -- hit Le Labo, which just opened last week in NoLita.
The two guys behind Labo are cologne big dogs who'd become sick of industry hype. So whereas larger companies regularly blow 95% of their budget on marketing gimmicks, Labo invests in ingredients -- resulting in a product that's distinctly better than premium brands, not to mention the Sex Panther currently putrefying the C train
Their shop looks like an apothecary crossed with a downtown bar, so you'll feel at home, but may have a sudden urge to experiment with laudanum. The counter's stocked with raw materials flown in from Grasse, the olfactory capitol of France. It's manned by a bona fide chemist, who'll concoct your batch from scratch on the spot. You can select from three masculine scents, three unisex*, or three feminine options (for when you're feeling especially saucy)
Though Labo's expensive, you'll be buying serious quality, not to mention a rarified odor that'll be prized by discerning women, blind women, and animals. If you want something totally unique, they'll even create you a custom scent from the ground up -- for a mere $40,000. You can recoup your funds by selling it, provided posters of you in a thong look good on the side of a bus
*They also make an alcohol-free baby perfume.