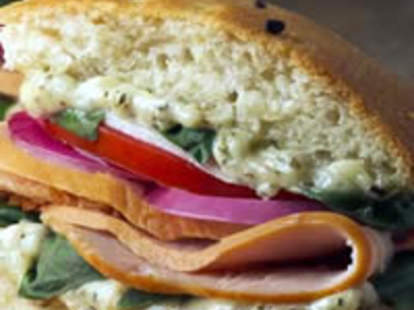 Any amateur can leverage dinner at Blue Hill into a night of grateful passion, but only a bona fide playa can score using nothing more than his wits and a sandwich. If you can pull it off with a Quiznos Classic Italian, well more power to you, Don Johnson. Otherwise here are a few legit sandwich spots that won't insult your lady, yet will satisfy your need to be a cheap bastard.
Via Quadronno:25 E 73rd St, at Madison212.650.9880Classy, casual panini spot where we once dined beside MC Hammer. What to order: Venison prosciutto sandwichWho to bring: An uptown girl who has no idea venison comes from the flanks of an adorable dee
2 Rivers:10 Murray St, between Broadway and Church; 212.566.6915This neighborhood spot's so undiscovered, the surly municipal workers at nearby City Hall haven't even found it. What to order: Mikey G's Brooklyn BroilerWho to bring: Mikey G's slut siste
Punch & Judy:26 Clinton St, between Houston and Stanton; 212.982.1116
This panini/wine bar is just dark enough to conceal your endlessly wandering eyes, and just inexpensive enough to allow you to pay for the condom you'll "forget" to wear.What to order: Duck panini or lobster slidersWho to bring: Someone who'll venture downtown twice in one nigh
The Bottom Line: the sandwich test is a win-win. If it works, you're scoring on the cheap. If you go down in flames, who cares. All you bought her was a sandwich...