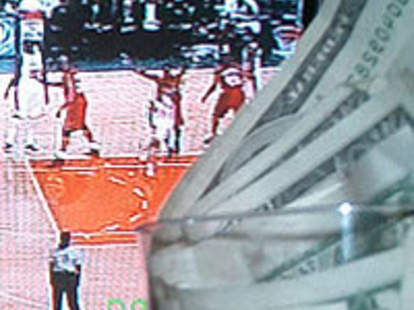 The Sweet 16 starts today -- which means your bracket's already been sunk by KU, UNC, Tennessee , Iowa and OSU. Reenergize your Tourney-watching with this fast-moving, perilously addictive cup game. A Razorbacks fan invented it to help him continue enjoying hoops after Nolan Richardson's departure condemned Arkansas to a decade of mediocrity and less good looking coaches
To start, everyone puts two dollars in a cup. Each player holds the cup for the duration of a possession before passing it on. Pass in the same direction until there's a jump ball, at which point the direction's reversed.
If a team makes a basket while you're holding the cup, pocket a dollar
Take two dollars for a dunk, three pointer, or old-fashioned three
If a player makes two free throws, take out a dollar; if he misses one or both, put in a dollar
Add a dollar for turnovers and rejections
Put $5 in if a player or coach commits a technical
Raise the stakes by putting in a buck for missed shots
At the end of each half, the guy holding the cup keeps whatever's left in the pot
Granted, you don't have to wager during these culminating rounds. But gambling's always more fun than not gambling, and this game should keep you in high spirits even if your team just got thrashed by Bucknell.