Sweet man-jewels (not that kind) in Echo Park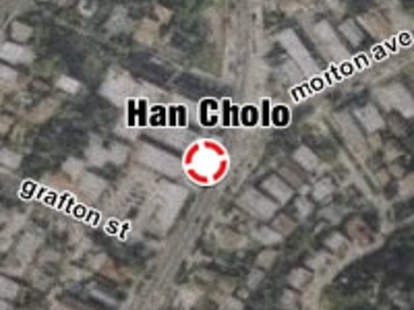 Sporting man-jewelry shouldn't require you to become an iced-up gansta or a locket-rocking sentimentalist who must carry his mother close to his heart to speak without a stutter. For bling that suits the common guy, check out Han Cholo.A collaboration between a tattooed Silverlake native and an equally tattooed Frenchman, Han Cholo's manishness can be seen in their high-profile client list, which ranges from rock (Dave Navarro) to stoned (Snoop Dogg). All the gear's designed in-house, then hand-cast in deepest, darkest Downtown. Some favorites include:
Raider ring: For Battlestar Galactica fans bravely forsaking the world of cheese-stained sweatpants for one of stylish accessories.
Ghettoblaster necklace: Before the iPod there was the boom box, and before the boom box the Earth was without form and void.
Han Cholo Buckle: A tribute to slouching, smuggling badass -- though telling girls to remove it to see your Wookie will only freeze your penis in the carbonite of loneliness.
Most of HC's goods come in one of three materials: silver, gold-plated, and even 14 karat -- though to afford that you might need to borrow funds from the woman whose tiny portrait is currently dangling down your G-Unit jersey.Check out their Galaga-esque website