A very adult special-place for your special night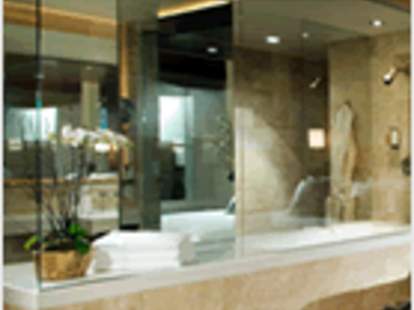 Whether it's because you hate STDs, or fear retribution for last trip's card-counting fiasco, sometimes you need a convenient, non-Vegas bachelor party option: the Star Suite, at San Diego's brand new Ivy hotel.Located smack in the bar-laden Gaslamp district, the luxurious Ivy's a self-professed "Adult Playground" -- which makes the 1300 square foot, 2-bedroom Star Suite the monkey bars. In addition to man-staples like a 50-inch plasma, the pad boasts:
Dual king-sized bunk beds hung wired to the bedroom ceilings, so you can try to get lucky, but still be near enough to your buddies to lull them to sleep with your sobs when said effort fails.
A "fireman's" pole. Will work for exotic dancers in a pinch.
A vast, multi-person, dual TV'd shower, accommodating slippery strippers with a side of adult cinema -- a.k.a. the Charlie Sheen Special.
An in-room bar that'll make your going-out-bingeing and staying-in-bingeing so seamless, they'll blur into one long episode of "Death by Fun".
A by-request poker table, a thrilling stage for the loss of all your money/pants.
In addition, the hotel'll hook you up with VIP passes to its two mammoth nightclubs, allowing you to blow right past the door-goons -- a welcome alternative to Vegas, where they'd break your hands and give you the clap.