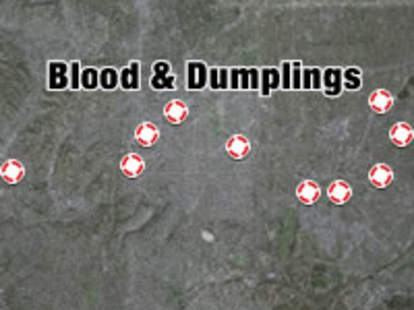 Most LA bus tours are for Midwestern tourists eager to spot Brian Dennehey's dry cleaner or the storm drain Britney Spears sleeps in. Instead, cut to the grit on the Blood and Dumplings Crime Tour.
Run by a group of historical crime buffs/sickos, Blood & Dumplings is a macabre trot through the San Gabriel Valley -- which is renowned for its great Chinese food and apparently, killing. At each stop along the 5-hour route, your alarmingly chipper hosts'll regale you with tales of death, dismemberment, and stomach-wrenching peculiarity. Crimes range from the bestial (Charles Manson and Family, Phil Spector) to the beast-licious (i.e., the 20s-era theme park Gay's Lion's Farm, where the owners bbq'd real lions -- which apparently taste just like cat)
Once all the carnage makes you drooly, you're in luck: the "Dumplings" part refers to a dim sum stop at Monterey Park's 101 Noodle Express. But be warned: overdo it and your guide'll be forced to abandon your bloated, Dennehey-esque cadaver en route, to be forgotten until you become the most boring stop on next year's tour.