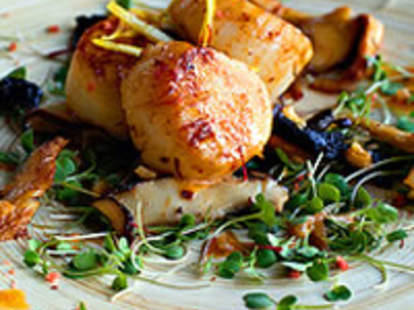 If you've heard of Ghetto Gourmet, you've probably felt hateful jealousy for the fortunate few who've dined on their shadowy food. Get ready to pull back the veil of deliciousness: The Ghetto is coming for you.
The lovechild of a Bay Area group of passionate gorgers, GG travels the nation, tapping top local chefs to prepare dinners in unusual, secret locations (homes, abandoned buildings, the capacious boughs of the Baobab tree). To join in, simply pre-register on their website. Food/location's announced after you book your seat, though for the LA events they've at least given a general neighborhood -- negating the need to rent a helicopter to get to your chow while it still steams. Attendees are expected to bring their own booze, and a butt-cushion (apparently Northern Californians are too cool for chairs). Since the chefs use these dinners to try out a staggering number of dishes, you should also bring your appetite, and possibly a spare colon
At this point, six meals are scheduled, though more may be announced soon. Space is extremely limited, so book now, or you'll be forced to enjoy your traditional Ghetto Gourmet -- tuning into Beethoven on KUSC as you eat Del Taco off your knees.