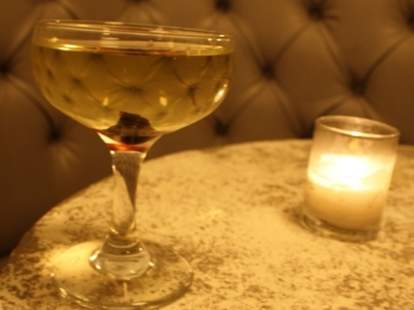 The arrival of foreign business can signal a sea change in a country, like in Egypt, where Chicken Tender Wrappers are now on hand to ensure a Hardee democracy. Preparing Red River for government by the cocktail, for the cocktail, Swan Dive
A collab between neighboring dance-haunt Barbarella and vaudevillian boozers Eastside Showroom, Swan's a sign-less speakeasy tucked into Red River's heart of rock & roll: an industrial-chic, bathhouse-esque ballroom with lavish gray leather booths, a pool-tiled bar underneath a mural of a diver, and ethereal lighting bouncing off whitewashed brick and fragile hanging windowpanes, creating an almost heaven-like atmosphere, and with a drink called "Angel Tits" on their menu, that's exactly where these folks are going. Jazzed up libations include The Walnut Room (Jameson, Nux Alpina Walnut Liquor, Luxardo Maraschino, fresh orange), the jam-infused Peggy Lee (Seite Lequas Reposado, Pampero Anniversario, fresh lemon, orange marmalade), and the Strawberry Jam (aqua vit, Aperol, fresh lemon); they also serve stalwarts like the Old Fashioned and the Moscow Mule, which by night's end will prove the Yakovian adage, "In Russia, Mule rides you!" To keep your ears tickled, they're hosting weekly events like Tango Tuesdays with the Piazzola Quintet, Mood Illusion Avant Jazz Wednesdays, and occasional performances by steampunk gypsies Minor Mishap Marching Band, presumably covering the work of R. Kelly.
Future plans include performances by swingers Four on the Floor School of Dance, a troupe that'll perform all manner of unexpected revolutions while you sit idly on buns fit for a Thickburger.