The Makers of Irish Spring® Present Thrillist's Guide to a Legendary St. Paddy's Day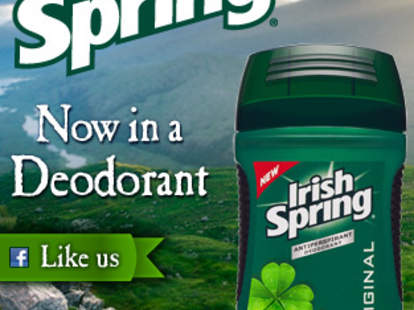 A simple truth: on St. Patrick's Day, even the awesome power of your "Kiss Me, I'm Irish" shirt will be nullified if you smell like the day after St. Paddy's. A simple solution: before heading out on this joyous occasion, up your charm factor with new Irish Spring® deodorant. So now that you're smelling fresh and feeling legendary, the next step is to be sure to hit the right spots, as it would be a terrible shame to waste that new dose of charm on a bar packed full of...lads. To aid you in this quest, Thrillist has compiled a quintet of worthy spots: from a down-south Hell's Kitchen restaurant owned by the singer who brought sexy back, to a Williamsburg basement paradise that'll bring your pickle back.
To get the full list of St. Paddy's recommendations, click here, and remember: you don't need luck when you smell awesome.
Freshen up your profile. "Like" Irish Spring® on Facebook, where you'll find crazy videos, offbeat polls, and tips for charming lasses.