Portland's sporty watering holes v. everywhere else's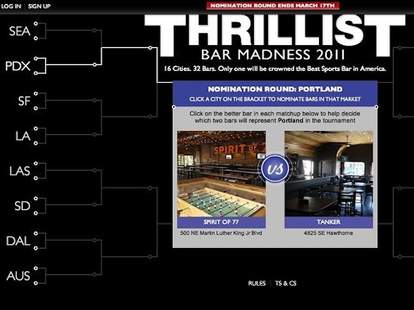 The Beaver/Duck madness that pervades Oregon completely discounts PSU, the state's largest public university, although Portlanders do offer tangential support by drinking like Vikings. Honoring the places that help with said support: Thrillist's Bar Madness 2011.
Bar Madness pits Portland's best against the rest of the nation in a throwdown between multi-screened and pool-tabled dives, taverns, and lounges more dives, ultimately decided by your vote, unlike the 2000 Presidential Elections, which were handled by some dude named Chad. The contest starts today with local nominations, as you decide which two of PDX's best sports-savvy haunts'll dominate against joints from 15 other US cities in a single-elimination brawl where every vote you make'll give you a shot at winning a $2011 bar tab, meaning you can finally pay off what you currently owe at your local, and still be the bigshot leaving an $11 tip.
Rose City contenders include 442 (PDX's only soccer exclusive bar), new kids Spirit of 77 with their game-heavy digs, and dependable dive Peter's 19th Hole, which offers drink prices so affordable they'll make you wanna Val-holla.