Bars Get The Bracket Treatment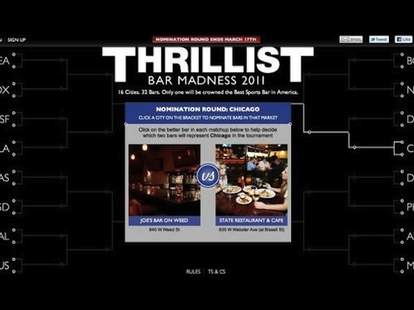 March is the time of year when people gather together to cheer on the place where they met their closest friends, learned life's most important lessons, and used cheap beer to make girls prettier: their local bar. For a tournament filled with institutions anyone can get into, check out Thrillist's Bar Madness.
Back for a second installment, Bar Madness is a no-holds-barred (ha!), bracket-style tourney in which participants (i.e., you) can vote their favorite watering holes to victory, giving the bars a chance at glory, and the voters a chance to win a $2011 bar tab, or as Jordan's kids call it, "the tip". It works like this: the nomination round consists of a dozen Chi bars competing against one another (two will advance), followed by a bracket-style showdown against winning bars from other Thrillist cities across the country, out of which one will be declared the Best Bar in America, which is sure to take away all of Almond's joy.
Chi competitors include The Stretch, Sports Corner, and last year's champ The Fifty/50, which, coincidentally, is about how sure you can be right now that the girl at the end of the bar is what you think she is.