Vote for the best sports bar and finally win more than respect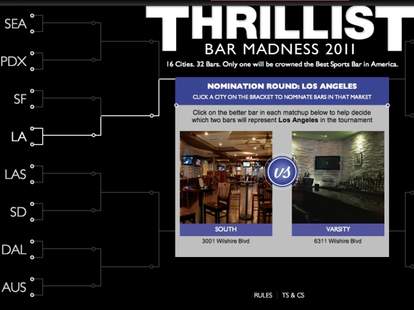 It always feels good when your support raises up something you love, unless you love Val Kilmer, in which case, you're most likely going to have lower back issues. Now, throw your support behind another heavy favorite: your drinking hole of choice, with Thrillist's Bar Madness.
From the super-genius, Mensa-ready, ultra-modest minds behind the very email newsletter you're reading right now, Bar Madness's a bracket-style, stupendously-prized competition pitting local, athletically themed watering holes first against each other, and then against winners from across the country, with a grand champion crowned the best sports bar in America -- sucks to be you, Power Bar Triple Threat Toffee Chocolate Almond Buzz. Here's how it works:: local rounds start today (choose your favorite with a simple click); then the top two vote-getters will advance into a tourney-style showdown (starts Thursday), which will continue until the winner is announced Mar 31; to further entice you to vote, each time you click your pick you're entered into consideration to win a bar tab worth $2011, so tell your favorite watering hole they better stock a crap ton of Midori!
LA's nominees include SaMo favorite South, Valley gastropub Henry's Hat, and the fratty Happy Ending, which -- after carrying Kilmer around all day -- is probably what they'll be saying while standing over your Tombstone.