ASICS® GEL-Blur33™: Disproving Newton's Theories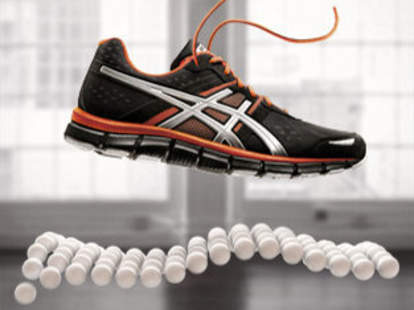 In life, there are lots of things to run for (glory, fitness, etc), and lots of things to run from (there are far more wild dogs out there than you'd think). Avoid getting weighed down, with ASICS® lightweight GEL-Blur33™.
Named for the number of joints in your foot, ASICS® newest kicks laugh in the face of gravity by sporting an almost impossibly light midsole, and promote natural movement via a sole built with flex grooves (hint: not the muscle-canyons separating your impossibly defined triceps). The rest of your foot is softly blanketed in the comfort of an open-mesh upper that dramatically reduces the potential for irritation, but not so dramatically that it makes crying babies stop when you approach. Available in five bold colors, the GEL-Blur33™ effortlessly transitions from a high-performance running shoe to everyday-wear.
Click here to see a groundbreaking visual representation of the GEL-Blur33™ using lightweight ping pong balls, and you'll see why there's no reason to burden your own feet with heavy shoes again.