Paaaaainnntttiiinnngggsssss!!!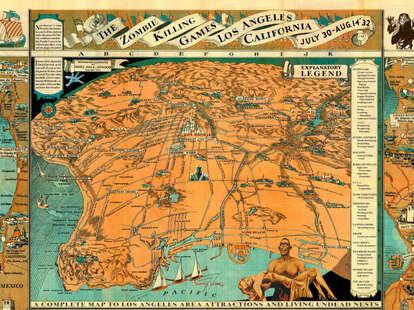 Created by a probably totally normal Pittsburghian who repurposes old artifacts and makes them monster-laden art pieces, the 1932 Zombie Killing Games is an intricately detailed breakdown of the psuedo-Olympics of the undead, and the perfect conversation piece to keep in your den, assuming you enjoy conversations that end with, "Actually, I think I'm just going to call a cab". Just kidding, it'll totally get you laid, once you show them:
...the intro graph in antique typeset describing the beauty of LA: "visit the valleys, the foothills, Civic Center, Satanic Hellmouth, or our miles of monster-free beaches" ... so clearly this isn't referencing Venice.
...an explanatory legend, breaking down the city by where events are taking place, i.e.: Olympic Park: Head Hockey; Rose Bowl: Getaway Cycling, Track; Will Rogers Ranch: Living Undead Feeding Pens & Children's Petting Zoo.
...that it calls USC "the home of visiting women slayers". Ugh, actually, don't tell that to anyone who went to USC.
...a potential lucha libre zombie located "217 miles from Los Angeles" in Ensenada, still making it far safer to visit in zombie-infested 1932 than it is now.
...the grim reaper, kind of just hanging out in Watts.
...a skinny, shirtless zombie carrying a lady below the rowing course in Naples, though judging by his size he'd barely make lightweight. Bwahahahaha. Crew jokes!
The aforementioned completely normal dude's also got other LA-centric prints, including Santa Monica being destroyed by a Godzilla-type monster, and the Hollywood sign getting obliterated by a T-rex, whose pea-sized brain and short, stumpy arms are also a great conversation piece, and it'd better be, considering that's the only type of piece you're getting. Kidding again, get ready to bang!