Earning its way onto our Favorite Five Burger List thanks to its "this isn't Burger King, you'll get it our way or else" motto, graffiti-lined, '90s hip-hop-blaring Baby's been stuffing late-nighting locals with 100% Angus bun-beasts for 10+ years, including everything from standard half-pound jobs to The Punisher: a five-pound monster that'll score you a free t-shirt and photo on their HOF wall if you finish it, and an unquenchable bloodlust to dole out vigilante justice while riding motorcycles.
Recommended Video
Potato Skin-Breaded Queso Balls Will Make All Other Apps Obsolete
Previous Venue
Next Venue
Venue Description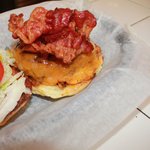 1. Cheeseburger Baby
1505 Washington Ave, Miami Beach, FL 33139
Like its name suggests, Cheeseburger Baby's all about the burgers -- don't let that fool you into thinking that the other menu items aren't worth a try, though. The double-decker grilled cheese in particular is all you could ever want in a cheese sandwich, and the chicken finger sandwich takes a classic app and slaps it in between two giant slabs of Texas Toast. Yum.