Down, Set, Delicioso: Brunch with Kahlúa®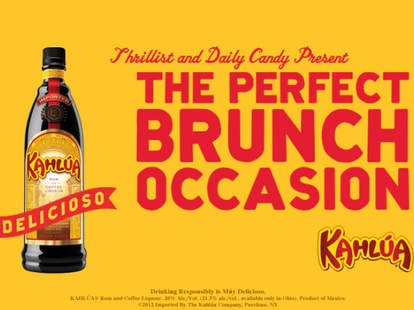 Football season's almost over, so instead of taking [an unprecedented amount of] passing offense to your girlfriend's brunch entreaties, visit the Kahlúa® Brunch Hub: a collaborative effort between Thrillist and the lifestyle ninjettes at DailyCandy that makes picking a destination easier than kicking a field goal -- when there's not a freakishly athletic d-lineman leaping up in front of you and blocking the sun with his 350lb girth.
The simple-to-navigate database is loaded with long, lazy, local feasting spots, where you'll revel in the coffee elixir that's been reppin' Veracruz since Canada elected its first female mayor (1936, obviously). Birthed from the convergence of the world's finest handpicked Arabica coffee beans and sugarcane rum, Kahlúa's® rich flavors play nicely with a vast array of mixers -- whether you take yours in a coffee cup or a martini glass, you can spike it with everything from cola to club soda, and still not be called for excessive celebration.
Check the first-round selections at the Kahlúa® Brunch Hub, and spend the off-season enjoying that halftime show of meals, where the only wardrobe malfunction will be your buttons popping off.