What Real Irish Whiskey Tastes Like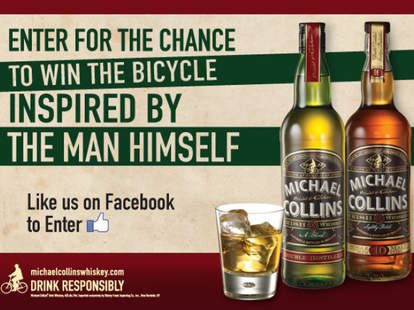 Bolster your Irish spirit with the award-winning, artfully-crafted uisce beatha, Michael Collins Irish Whiskey, and celebrate a Gaelic hero who'll warm your tongue without setting your feet aflame. Now boasting a redesigned bottle made for a new generation of whiskey lovers, both the Michael Collins Blended Irish Whiskey and the Single Malt 10-Year are double-distilled from locally harvested malted barley and all-natural mountain spring water, making for a taste so uncompromising, you wouldn't dream of haggling with it. You'll be drinking in the very history of the Irish Republic, as the elixir's named for the Fenian Brother who spent his heyday biking the streets of Dublin, delivering covert communiqué for the liberation, and possibly wondering if he'll get less guff from his friends if he just calls the communiqué "communications".
Want to learn more? Check out Michael Collins on Facebook, and enter for a chance to win a custom-made Michael Collins Whiskey cruiser bicycle, designed in the spirit of the original "Big Fella" himself.