Get Almost Famous: Mohegan Sun's Shine 360º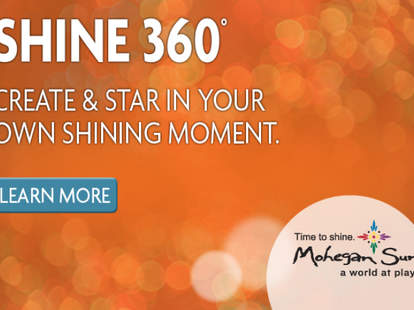 Since you're in no position to use an awards show as a platform to voice your opinion on the optimal ratio of leg exposure to dress slit, Mohegan Sun is giving you the opportunity to create a celebrity moment all your own, with Shine 360º.
To understand this 24-foot wide, 48-lens video installation -- located in the Casino in the Sky and free for Player's Club members -- just picture yourself at the center of a ring of paparazzi cameras, minus the whole "dance, monkey, dance" aspect. It's the only place in the U.S. where you can capture you and your friends, from every angle, acting like the celebrities you definitely, definitely are. From there, the images are looped, and the photos are converted into a digital video file -- so all your Facebook fans (mom, 3rd grade teacher, disturbingly persistent girl who found your wallet at a bar) can revel in your glamor, or, if you're British, glamour.
Head over to mohegansun.com/shine360 to see Mohegan Sun's top Shine 360º picks for the week, and learn the true meaning of phygital marketing (physical + digital). Then plan your Mohegan Sun getaway, and get your game face on for the 12 seconds of fame you're about to experience.