The JackThreads Spring Style Guide, Presented By Gillette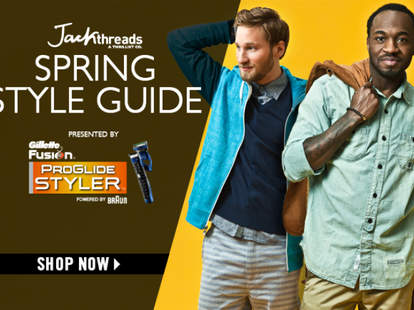 Like Mark Twain, Gillette understands that, no matter how well-manicured your muttonchops, the clothes make the man, and naked people have little or no influence on society. Fortunately for all of you hoping to run for office/leave the house, the razor kings have teamed up with our style-savvy brothers at JackThreads for the essential Spring Style guide.
This online shopping event features three complete philtrum-fuzz-to-toe looks, allowing you to coordinate your crumb-catcher with your clothes, your goatee with your gear, or, even better, your not-goatee with your gear. Whether you're a chin-strapper, soul-patcher, or permanent resident of the five o'clock shadows, the JackThreads Spring Style Guide will ensure your sartorial skills keep up with your grooming godliness.
And because you're you, if you're one of the first to shop the Spring Style Guide, you'll be entered to snag a complimentary Gillette Fusion ProGlide Styler, the 3-in-1 precision-edging, wet-shaving, dry-trimming grooming tool, keeping you sharp whether you're in King Arthur's court, or just randomly floating down a river.