No Prenup Required: The Jack in the Box® BLT Cheeseburger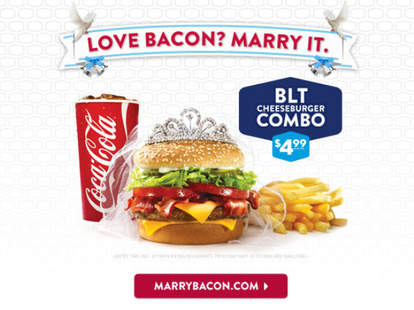 Valentine's Day approacheth fast, and now more than ever is the time to listen to your heart/stomach and reflect on the relationship that means most: bacon. Find the perfect expression of that love with the new BLT Cheeseburger from Jack in the Box®.
Made with a 100% all-beef patty that's seasoned while it cooks, the new BLT Cheeseburger comes loaded with the mouthwatering meat you love so much, you're willing to merge assets with it. And priced at just $4.99 (plus tax!) with small fries and a 20oz drink, it may tug at your heartstrings, but it'll leave your purse ones alone. Available at participating locations for a limited time only, don't let this be the bun that got away.
While you're at it, go for the limited edition "Marry Bacon" Tuxedo T-shirt designed by the vougue-ish Vikings at JackThreads, and sartorially declare your bacon amour, minus the wafting scent of meat associated with a shirt made of actual bacon.